Cemetery
Naramata Cemetery Information Map
NEW SCATTERING GARDEN
Newly created Tranquility Garden within the Naramata Cemetery offers families the opportunity to scatter the cremated remains of loved ones in a permanent reflective, natural setting. The Tranquility Garden has been created with walking pathways, benches and a reflection space for families all in a natural landscaped section of the cemetery.
The garden includes a memorial monument for families wishing to place a bronze plaque in memory of their loved one. Memorial plaques are ordered through the Regional District office. A Right of Interment (Plot Reservation License) is required prior to scattering of loved ones within the garden. Families should be aware that when cremated remains are placed in a scattering garden they are non-recoverable.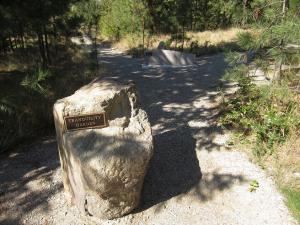 Interments, Memorial Markers
INTERMENTS:
Must be made Monday to Friday between the hours of 8:00 am and 5:00 pm. Cremated human remains must be enclosed in a container that is of sufficient strength to hold the cremated remains, prevents remains from posing a health hazard, and meets the requirments set out in the regulations.
No graves may be opened or closed except by employees of the Regional District.
MEMORIAL MARKERS:
A memorial marker made of stone, concrete or bronze may be installed on a grave, and shall be no larger than 30 cm x 60 cm for a BURIAL PLOT or CREMATION PLOT.Memorial markers shall be installed flush with the surface level of the surrounding ground.No plot shall be defined by a fence, railing, curb, hedge or other marker or structure other than a memorial marker or temporary marker.
NARAMATA CEMETERY GROUNDS:
Boxes, toys, shells, screens, arbors, trellises, tripods or any other objects or structures are prohibited on any plot.Flowers or wreaths may be placed on a plot, but may be removed when their condition is deemed to be detrimental to the general appearance of the Cemetery. Any container used to place a memorial offering is subject to the approval of the Caretaker.Memorial trees, shrubs, flower beds, structures or improvements may be donated or funded for planting within the grounds if approved by the Regional District Board.
Any violations of the provisions of the Bylaw shall be deemed to have committed an offence and shall be liable to a penalty as outlined in the Offence Act.