Campbell Mountain Landfill
HOURS OF OPERATION
MONDAY, TUESDAY, WEDNESDAY, THURSDAY, FRIDAY, SATURDAY
OPEN 8:30 AM - 4:45 PM
SEASONALLY SUNDAYS (March 1st to End of November)
OPEN 8:30 AM - 4:45 PM
FROM MARCH 1ST TO END OF NOVEMBER OPEN ALL STATUATORY HOLIDAYS 
CLOSED Sundays in December, January and February
CLOSED Christmas Day (Dec 25), Boxing Day (Dec 26), New Years Day (Jan 1) and Family Day
Household Hazardous Waste (HHW) only accepted from 8:30 am to 4:00 pm when landfill open.
Depot Recycling is located before the Scale House. Recyclables must be sorted, as per directed by signage.  Depot Recycling Information Sheet lists what is recyclable. 
BYLAWS (Fees and Regulations)
Click here for Landfill Bylaws: Regulations (definitions/rules) and Fees (costs by material).
Please tarp or cover all loads! Failure may result in double tipping fees!
Keep materials separate to reduce your landfill costs.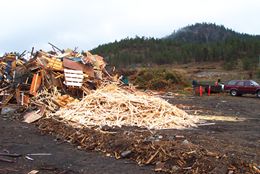 Before you go
You can save a lot of money if your loads contain only separated materials. Please get to know the items that can be recycled and what items aren't allowed in the landfill. Check the Regulation Bylaw for information.
Remember to tarp all loads or fees will be doubled to a minimum of $10.00.
If you want to purchase City of Penticton Compost check with the City of Penticton website for availablity before coming up.
Recycling and Composting
Save money and reduce the amount of garbage you generate by separating recyclable or compostable materials from refuse.
There is a free residential recycling depot at the entrance of the landfill for common recyclables. The depot has three types of bins: Cardboard, Glass and Other Recyclables.
Cardboard Bins
Flatten
Keep loose and do not bundle
At the Campbell Mountain Landfill there is a free large volume cardboard drop off area within the landfill. Drive to the scale and the scale attendent can tell you how to dispose of your large volumes of cardboard. These bins are set up for you to back up to and easily dump your large volumes of cardboard.
Glass Bins
All colours of clean container glass and glass bottles
Leave the labels on but remove all caps or rings
Blue Bag Recycling Bins
Tin cans and clean aluminum foil
Clean plastic containers and plastic bags (must be over 4 inches in size)
Paper and mixed paper including books (no metal rings or plastic covers)
Boxboard
Can be placed in loose or mixed together in see through bags
Other Recyclables
Within the landfill there are also areas for recycling of various materials. Consult the Fees Bylaw for any applicable fees to dispose of these items:
Metal items and appliances
Untreated wood and yard and garden waste
Agricultural plastics
Agricultural tree stumps
All household and lead-acid batteries
Propane tanks
Tires
Electronic waste/TVs/computers
Concrete, asphalt, masonry
Gyproc (drywall)
Mattresses and boxsprings
See the following links for recycling and composting information:
rates and availability of compost sold at the Campbell Mountain Landfill, refer to the City of Penticton website.
free yard waste drop-off at the landfill;
general information on composting;
information on where you can recycle items such as paint, batteries and used motor oil, refer to the "Where Can I Recycle?" section of the website.
Household Hazardous Waste Facility
The Household Hazardous Waste Facility is open from 8:30 am to 4:00 pm on days the landfill is open.
The Campbell Mountain Sanitary Landfill has a year around Household Hazardous Waste Facility. Residents in the Campbell Mountain Sanitary Landfill service area can drop off a variety of household items free of charge for safe disposal. For more information on what constitutes Household Hazardous Waste please click here.
The Household Hazardous Waste Facility will not accept Commercial or Industrial related products. For more information on the disposal of these materials please look at the Prohibited (Hazardous) & Controlled Waste section below or phone the Regional District Solid Waste Division at 490-4129.
Prohibited (Hazardous) & Controlled Waste
Some types of waste are approved for disposal at the landfill but require special handling and disposal techniques to avoid creating health hazards, nuisances, or environmental pollution. Some waste, including radioactive, biomedical, asbestos, automobiles, slaughterhouse, and other waste is prohibited from disposal at the landfill.
City of Penticton Compost
The City of Penticton sells compost through the Campbell Mountain Landfill.